A group of five professors in Department of IT Convergence, Graduate School of Gachon University applied for the BK21 FOUR program and won the following project.
Title of the Project
FAST (Fast, Advanced, Secure and Transaction) Artificial Intelligence Convergence
Background
Although artificial technologies (AI) have significantly advanced at a rapid speed, they have also raised a range of issues including reliability, performance and security. To cope with these emerging issues, we need innovative research and education in AI in the FAST (Fast, Advanced, Secure and Transaction) way.
Vision
Our vision is to lead advanced core technologies in artificial intelligence and its applications worldwide, and foster creative and cooperative personnel both in academia as well as in industry.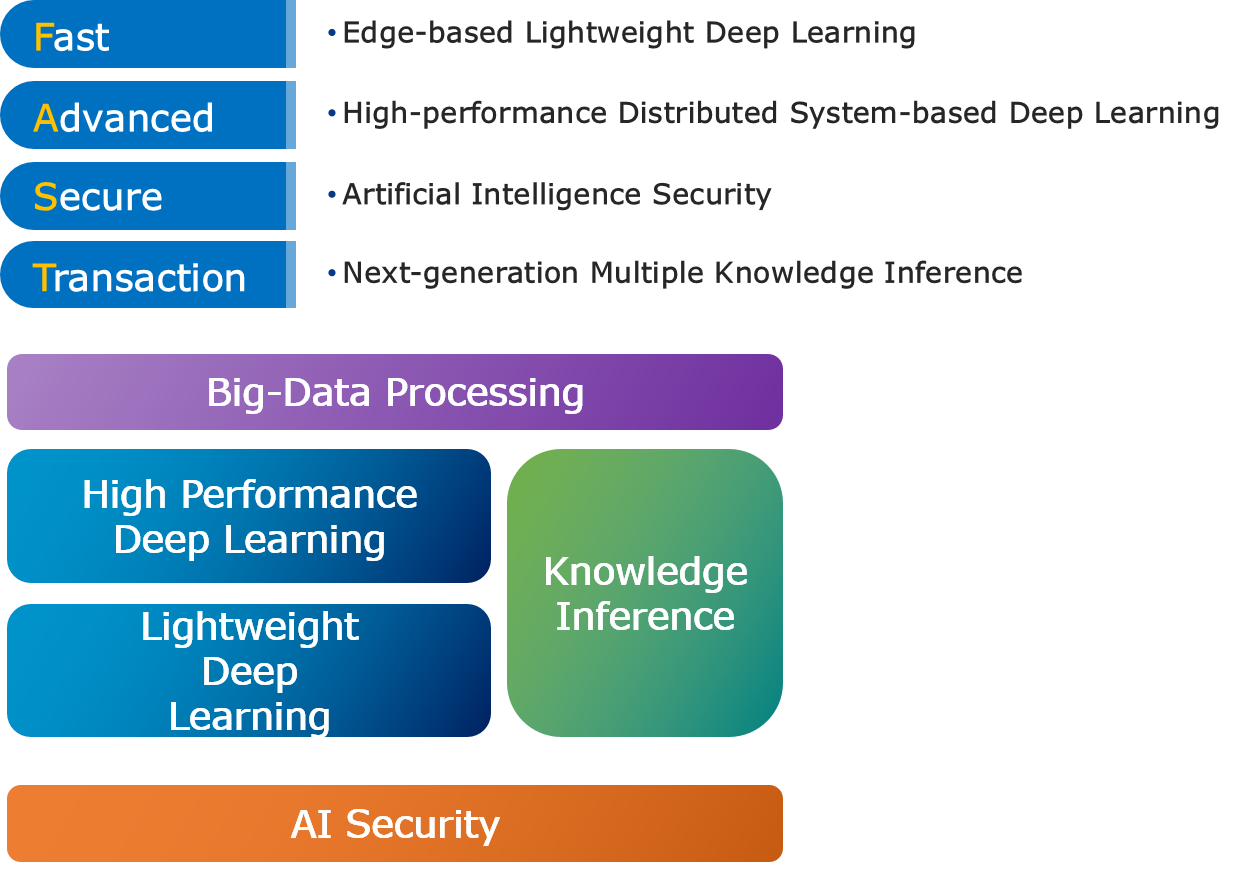 Goals
Our goals can be summarized in four aspects: education, research, globalization and contribution to our society. In the educational aspect, we aim to build practical problem-based AI curriculums to foster cooperative experts. In the research aspect, we aim to advance innovative core technologies in AI, leading the market. In the globalization aspect, we try to build worldwide infrastructure for conducting joint research projects and opening joint degree programs with the advanced groups. Last, we will be committed to contribute to our society by resolving societal issues based on AI technologies.
Participants
This project was initiated by the following professors under Prof. Seong Oun Hwang's leadership:
| | | | | |
| --- | --- | --- | --- | --- |
| No. | Name | Organization | Email | Homepage |
| 1 | Prof. Seong Oun Hwang | Gachon University | sohwang@gachon.ac.kr | |
| 2 | Prof. Chang Choi | Gachon University | changchoi@gachon.ac.kr | |
| 3 | Prof. Joon Sik Lim | Gachon University | jslim@gachon.ac.kr | |
| 4 | Prof. Jinsoo Cho | Gachon University | jscho@gachon.ac.kr | |
| 5 | Prof. Taegkeun Whangbo | Gachon University | tkwhangbo@gachon.ac.kr | |
Partners
18 foreign academic institutions and 18 domestic companies have been involved in the project as partners:
Foreign partners
No.

Name

Country

Homepage

1

University of Birmingham

United Kingdom

2

Rochester Institute of Technology

United States

3

University of Louisville

United States

engineering.louisville.edu/
academics/departments/computer
louisville.edu

4

William Paterson University

United States

5

Cognitive Big Data and Cybersecurity, Edinburgh Napier University

United Kingdom

6

University of Salerno

Italy

7

Universiti Tunku Abdul Rahman

Malaysia

8

Biomedical Engineering Institute, Chiang Mai University

Thailand

9

National University of Sciences and Technology

Pakistan

10

Cyber Security and Cryptology Lab, Ondokuz Mayis University

Turkey

11

AGH University

Poland

12

National Institute of Technology, Kurukshetra

India

13

University Politehnica of Bucharest

Rumania

14

Asia University

Taiwan

15

Beihang University

China

16

Hohai University

China

17

Sun Yat-sen University

China

18

Feng Chia University

Taiwan
Domestic partners
| | | | |
| --- | --- | --- | --- |
| No. | Name | Organization Type | Homepage |
| 1 | Electronics and Telecommunication Research Institute | Research Institute | |
| 2 | Korea Electronics Technology Institute | Research Institute | |
| 3 | Korea Institute of Science and Technology Information | Research Institute | |
| 4 | Smart Medical Security Forum | Association | |
| 5 | Artificial Intelligence Industry Association | Association | |
| 6 | National Association of Hacking & Security | Association | |
| 7 | Wins | Business | |
| 8 | HealthMax | Business | |
| 9 | Infomark | Business | |
| 10 | Blaubit | Business | |
| 11 | Rootous System | Business | |
| 12 | SGA Solutions | Business | |
| 13 | INFINITT Healthcare | Business | |
| 14 | Camlux | Business | |
| 15 | Wisestone | Business | |
| 16 | Cookplay | Business | |
| 17 | Seers Technology | Business | |
| 18 | Security Platform | Business | |
| 19 | KMU RESEARCH INSTITUTE OF AI FUSION | Research Institute | |
| 20 | International Research Institute for Cyber Security | Research Institute | |